About Biblestudy4u.org
The idea for a powerful Bible studies-website was born in 2009, out of the desire to make God's Word accessible and easier to understand for everyone.
These short Bible studies can be applied in our daily lives.

The studies are meant for personal growth and can be used as a basis for your own Bible study. They may be shared without permission, on the condition that they will be used in honor of God.

For those who do not have a Bible, you can find one online on the website of the Bible Gateway.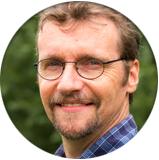 Steven Verhorst
An enthousiastic team
Steven Verhorst
Steven and his family have served God as missionaries in Thailand from 1995 until 2008.
He still teaches the Bible and is the author of these Bible studies.
Other team members of biblestudy4u.org
Ivo van Willigen does public relations and made the graphic design website.
Nico Jongejan is senior-programmer of this website.
Arie Tempelman monitors the theological content of the Bible studies.
Christel Rijken and Carol La Porte take care of the English translation of the Bible studies.
Magdalena and Anna take care of translations for the Polish website.
Magdalena i Anna przetłumaczyły studia biblijne na język polski, www.studiumbijblijne.org.